Crissy Rock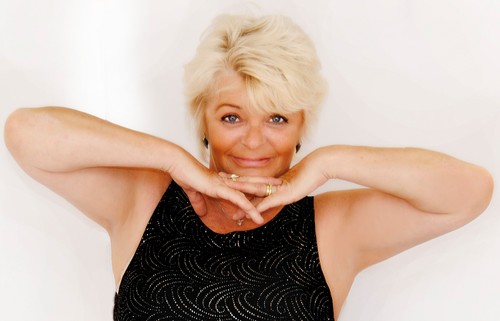 C
rissy Rock is without doubt one of the UK's true undiscovered genius talents.
Crissy has a unique ability to reduce her audiences to tears of laughter with her hilarious one woman stand-up shows and to tears of emotion with her film roles (including her extraordinary award-winning performance in director Ken Loach's masterpiece "Ladybird Ladybird") and more recently her role as Janey in Benidorm. With her recent exploits on ITV's "I'm a Celebrity Get Me Out of Here" fresh in the public's mind 2012 is easily her best year to date.The release of her recent hit autobiography "The Heart Within Me Burns" became something of a sensation in 2011 sitting in the top ten of the Sunday Times bestseller list for 7 months and shortly being released as a paperback having hit 35,000 sales. Described as 'an inspirational piece of literature' it introduced Crissy to a whole new audience while her promotional appearances in support of the book were simply astonishing in the frankness of her humour while dealing with some hugely difficult subjects and a run of TV appearances (including 3 show-stopping appearances on This Morning) fuelled a surge of interest in Crissy and her incredible life to date. With huge news about to be announced around Crissy's autumn TV commitments 2011 has been a fantastic year for Crissy and 2012 promises to finally deliver the national recognition she so richly deserves.
Rewind 25 years or so…as a complete novice Crissy auditioned for a film called "Ladybird Ladybird" and legendary director Ken Loach immediately gave her the lead role. Justifying his view that this was indeed an actress of exceptional talent with the determination and ability to star in such a brutally hard hitting film, Crissy won numerous awards including winning The Berlin Film Festival award for best actress (that same year Tom Hanks won Best actor). Crissy also won the best actress award from the London Film Critic Circle with Hugh Grant winning best actor. Other awards followed including Chicago Film Festival – Best actress Award, Spanish National Radio Award for a foreign actress, French Henri Langlois Prize, "HERO" (a short film in which Crissy was the lead actress) won the Hamburg and Dresden International Festivals in three categories, also the London International Film Festival for short subjects, quite a remarkable achievement for this uniquely gifted actress.
Crissy then had two featured roles in Television's "Peak Practice" again showing her versatility and range. Many roles followed including two series of Granada's "Springhill", The BBC drama "Brazen Hussies" starring alongside Julie Walters and Robert Lyndsey for which Crissy received much critical acclaim. Her next role was in the BBC drama "Born to Run" and was followed by Crissy starring in a new drama "Shellfish" with her performance in this play gaining many plaudits with critic's comments ranging from "Destined for national stardom" to "Crissy Rock's powerful performance will help to make her a name to remember".
Further success followed with The Granada TV drama "Butterfly Collectors" which saw Crissy co-starring with Pete Postlethwaite with praise from the critics including Nancy Banks-Smith who – writing in The Guardian – said : "Crissy Rock..just switch her on and watch her go", "Dockers" for Parallax saw Crissy playing the part of Jean opposite Ken Stott while a lead role in "The Factory" followed, again for Granada.
Crissy numbers many legendary stars among her fans including some of the UK's leading writers and directors. Lynda La Plante is a huge admirer and became a fan after Crissy received rave reviews in a guest role in "Closure" from "Trial and Retribution" saying "Crissy has a power of emotions that is so rare" while Ken Loach simply says "I cannot think of anyone I have worked with who shines more brightly than Crissy Rock".
As well as Linda La Plante and Ken Loach, actress Julie Walters and actors such as Ricky Tomlinson (with whom Crissy starred in "Nice Guy Eddie"), continue to champion Crissy' Rock's talent and genius to this day.
A hiatus in her acting career came when she decided to re-locate to Spain specifically to film the Tiger Aspect/ITV comedy "Benidorm" alongside Johnny Vegas Tim Healey, Steve Pemberton and Sheila Reid. Crissy's role as Janey York ran for 3 hit series and Crissy decided to stay in Benidorm soon establishing herself as the Island's top female stand-up comedienne and playing 10 shows a week to packed houses.
Crissy's stand-up comedy is outrageous yet at times mesmerising and is fast becoming "must-see" theatre. Her recent sell out show at Liverpool's legendary Royal Court theatre saw her take the step up from the smaller working men's clubs to the bigger theatres and her show took a huge leap forward as a result. The show shot by Integral Productions was released on December 5th 2011 and follows her appearance in ITV's "I'm a Celebrity Get Me Out of Here".
Tweets by @Crissy_Rock
Bold
Bold
Beyond the usual limits of conventional thought or action;imaginative
Not hesitating or fearful in the face of actual or possible danger or rebuff
Audentes fortuna iuvat - Fortune favours the Bold.
Contact E-mails
Martin O'Shea:
martin@bold-management.com

Mike Cockayne:
mike@bold-management.com

Paula Stewart:
paula@bold-management.com

Gill Bowker:
gill@bold-management.com

Kate O'Shea:
kate@bold-management.com

Jade Reuben:
jade@bold-management.com

Joe Foster:
joe@bold-management.com

Felan Davidson:
felan@bold-management.com