Nina Jade with her FIRST feature single 'Sun Is Shining' hits 180k online plays 4 weeks ahead of release date!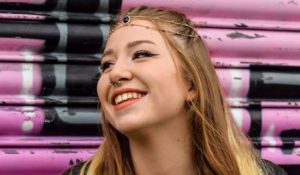 Nina's debut feature single with UK producer Igloo 'Sun Is Shining' hit 75k Spotify plays and 110k Youtube plays within the first 4 weeks ahead of the release date 21st July with radio play from the big stations imminent.
The track is released by Hoxton based record label Perfect Havoc who had a great 2016 with Igloo which brought a collaboration with Tobtok (Perfect Havoc) & River on the viral smash Fast Car (Atlantic Records), achieving Platinum status in Australia, top ten in Ireland, Sweden and Poland, #1 chart position on Shazam in Germany and Ireland with over 27 Million Streams on Spotify. Igloo also secured a string of cuts alongside River with the likes of Defected, Toolroom, Hed Kandi, Protocol, Armada, Kitsune, Disco Wax, Sony & UMG.
Nina Jade is an immensely gifted 18 year old singer/songwriter. Her influences are alternate rnb/soul/urban – citing artists such as The Internet, Hiatus Kaiyote and Jhene Aiko, although her versatility as a vocalist and performer enables her to switch up style and fit effortlessly as a feature artist. Nina delivers a fresh take with her vocals on Bob Marley's classic 'Sun Is Shining'
Sun Is Shining (Feat. Nina Jade) will be available across all stores on July 21st 2017 on Perfect Havoc.
Nina Jade
https://soundcloud.com/ninajadeoffial
Tweets by NinaJadeUK
http://facebook.com/ninajadeuk
http://instagram.com/ninaajade
Listen to the full track on Spotify: https://open.spotify.com/track/2Bke4XdPSgxisu9XwxbPo1
Contact: Jason@bold-management.com
Got anything to say? Go ahead and leave a comment!
Bold
Bold
Beyond the usual limits of conventional thought or action;imaginative
Not hesitating or fearful in the face of actual or possible danger or rebuff
Audentes fortuna iuvat - Fortune favours the Bold.
Contact E-mails
Martin O'Shea:
martin@bold-management.com
Kate O'Shea:
kate@bold-management.com
Jade Reuben:
jade@bold-management.com
Gill Bowker:
gill@bold-management.com
Joe Foster:
joe@bold-management.com
Felan Davidson:
felan@bold-management.com
Jackie Christian:
jackie@bold-management.com
Lauren Bowden:
lauren@bold-management.com
Lisa Simmons:
lisa@bold-sports.com
Shannen Bamford:
shannen@bold-management.com
Ben Lockett:
ben@bold-management.com
Matthew Walsh:
matty@bold-management.com
Jason Finegan:
jason@bold-management.com