50ft Warrior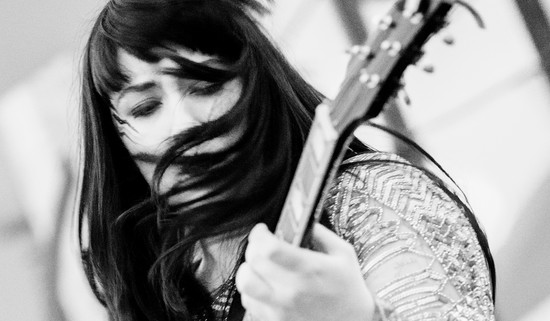 50ft Warrior are a 4-piece punk rock band from Liverpool lead by singer/songwriter Rowan Reid. They deliver powerful performances fuelled by pure passion and attitude, as Rowan captivates audiences with her rock chick persona and fiery vocals. 50ft Warrior have had airplay on radio stations such as BBC Introducing Merseyside, BBC Radio 6 and Amazing Radio after their track 'Addicted' earned them a place on the Glastonbury Emerging Talent long list. 2017 is looking like a big year for the band as they prepare for the release of their debut album, produced by Grammy and Brit Award winner Steve Levine.
'Hope Fest' Live Review – "50ft Warrior were full of rock and roll attitude and the music reminded me of punk and psychobilly in the vein of one of my all-time favourite bands, The Cramps."
Liverpool Sound and Vision – "The band played a set which was at all times entertaining, just that touch dramatic, wonderfully boisterous and quite rightly placed Rowan Reid at the very centre of the attention."
Tweets by @50ftwarrior
Bold
Bold
Beyond the usual limits of conventional thought or action;imaginative
Not hesitating or fearful in the face of actual or possible danger or rebuff
Audentes fortuna iuvat - Fortune favours the Bold.
Contact E-mails
Martin O'Shea:
martin@bold-management.com
Kate O'Shea:
kate@bold-management.com
Jade Reuben:
jade@bold-management.com
Gill Bowker:
gill@bold-management.com
Joe Foster:
joe@bold-management.com
Felan Davidson:
felan@bold-management.com
Jackie Christian:
jackie@bold-management.com
Lauren Bowden:
lauren@bold-management.com
Lisa Simmons:
lisa@bold-sports.com
Shannen Bamford:
shannen@bold-management.com
Ben Lockett:
ben@bold-management.com
Matthew Walsh:
matty@bold-management.com
Jason Finegan:
jason@bold-management.com