The Glitter Beats
Contact Agent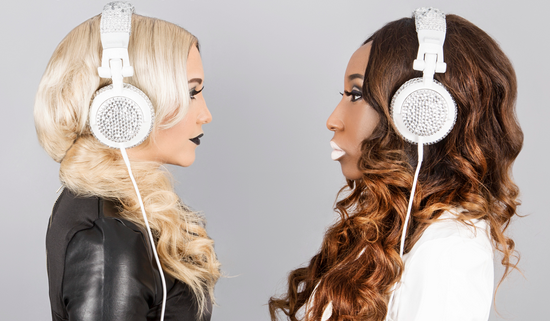 F
emale DJ duo 'The Glitter Beats' announced their arrival on the London music scene last year and DJ Tayla Richi 24 and DJ Yuki Love 25 have combined their musical talents delivering hands in the air sets to the trendiest crowds in the capital.Although the girls grew up literally around the corner from each other, they didn't meet until they started dj'ing when a mutual friend introduced them, they clicked immediately. Tayla says, "Having always loved music, rather than learning a new instrument I bought a small DJ set up and taught myself from scratch," Vanessa adding, "Being a singer, I wanted to learn all aspects of music production. We met, helped each other develop as DJ's and booked our first gig a month later and it's snowballed from there." Tayla continues…''When it came to thinking about our name it came to us really fast, we absolutely love music and fashion and somehow 'The Glitter Beats' felt perfect''
From just one glance at these girls behind the decks, it is obvious that they absolutely love what they do. Their energy is infectious and drives the crowds they play to, they don't just simply mix music, DJ'ing for them is a performance and during their sets you can see the girls constantly interacting with the crowd and creating an electrifying atmosphere, whether in a club, at a private event or fashion show.
The girls have been seen spinning the decks across London performing sets at brand and media launches including for Club MTV, Geordie Shore, Now magazine, Style for Stroke, Lingerie Awards, Easilocks, Celeb Boutique, La Senza, Made In Chelsea fragrance, Variety Club, Jog on to Cancer, Fashion Monitor, Golf Rocks, Protein World and the girls were the star attraction at the Fabulous Fashion Awards. The girls are also the official UK DJ's for Juciy Couture and are supported by Monster Headphones.
Although at first glance they may appear very different, the fusion of Tayla and Vanessa's cultures, tastes and style gives them their unique edge and is what gives their mixes such a distinct eclectic sound. Like their favourite DJ's, Nervo, Avicii and Tiesto, the girls constantly mix a wide variety of music and styles; perhaps best known for their energetic electro and commercial house sets, they shape their sets depending on what their audience wants to hear and what will fill the dance floor.
With gigs booked both nationally and internationally for next year as well as having secured numerous hosting spots, 2015 is set to be huge for the pair. With their passion and flair for music and fashion, allied with their down to earth nature their aim is to keep enjoying what they do, entertain their audiences and build the 'The Glitter Beats' brand to become synonymous with cutting edge music, parties and fashion.
Tweets by @TheGlitterBeats
Bold
Bold
Beyond the usual limits of conventional thought or action;imaginative
Not hesitating or fearful in the face of actual or possible danger or rebuff
Audentes fortuna iuvat - Fortune favours the Bold.
Contact E-mails
Martin O'Shea:
martin@bold-management.com
Kate O'Shea:
kate@bold-management.com
Jade Reuben:
jade@bold-management.com
Gill Bowker:
gill@bold-management.com
Joe Foster:
joe@bold-management.com
Felan Davidson:
felan@bold-management.com
Jackie Christian:
jackie@bold-management.com
Lauren Bowden:
lauren@bold-management.com
Lisa Simmons:
lisa@bold-sports.com
Shannen Bamford:
shannen@bold-management.com
Ben Lockett:
ben@bold-management.com
Matthew Walsh:
matty@bold-management.com
Jason Finegan:
jason@bold-management.com